Donna Prieto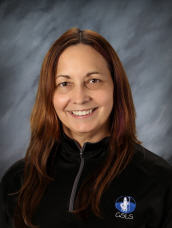 Donna Prieto
Enrollment and Billing
Donna Marie Prieto first states that she is a daughter of a King, our Lord and Savior Jesus Christ.
She has her bachelor degree in Business Administration with a Human Resources focus. Donna has about 20 years of experience working in the field of education.
When not at GSLS, Donna Marie enjoys cycling, hiking and going to the beach. She loves to spend time with her husband, two dogs and a calico cat. She is excited about the Ministry & Missions course she is taking. She hopes to be taking a mission trip to the Dominican Republic over the next year.
Donna Marie's superhero is no other than Jesus Christ!
We are blessed to have Donna Marie as part of GSLS.