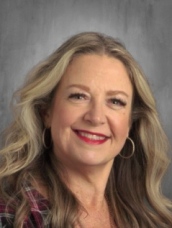 Gretchen Simon
Drama & Vocal Arts
Gretchen Simon has taught at GSLS for over 25 years. She teaches performing arts to preschool students through middle school. Gretchen founded the performing arts program at GSLS over 20 years ago, and has been a key player and creative force in building a comprehensive enrichment program. Gretchen was educated at Dominican University, American Conservatory Theater, and the University of North Carolina, where she received her certification in Music Education and Kindermusik. Gretchen recently completed a workshop through the Broadway Teacher's Workshop, where she completed master classes taught by Broadway and Tony nominated directors, choreographers, and actors.
In addition to Gretchen's many years of teaching performing arts, which includes over 100 performances at GSLS, she also worked as a professional singer and did radio and tv commercials. She is a lead vocalist on a children's record that was a grammy nominated album. Gretchen is a classically trained singer, but has a great love for jazz and musical theater. As a professional jazz singer, she sang back up for the Late great Rosemary Clooney, and was the opening act for Jazz legend Vic Damone.
Gretchen teaches private voice lessons, and has successfully tutored many high school and college bound students, into being excepted into elite performing art schools. Gretchen received the Novato Rotary Club Teacher of the year award in 2012, but feels her best award is the joy she gets from teaching her many wonderful students, past and present.
When not teaching or directing, Gretchen enjoys travel, and discovering amazing local sites, restaurants, wines and craft cocktails with her husband and grown daughter, who is a proud GSLS alumnus.
We are blessed to have Ms. Simon as part of GSLS.