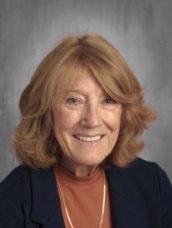 Carol Wise
1st Grade Teacher / Interim Director
Over the years Ms. Wise has taught first, third, fourth, and fifth grades. For the past 22 years she has found her passion teaching first grade. At the core of her teaching is a deep sense of care for and commitment to the individual student. She believes students have the greatest opportunity for success when they are learning within the context of a relationship in a community of trust, care, and respect.
At GSLS she has had the privilege of working alongside a dedicated staff, with amazing families, students. and supportive church members. She is very proud to be a member of this staff serving this Christian faith community.
When not at GSLS, Ms. Wise loves spending time with her husband and best friend, Tom Wise. They have five adult children, two grandchildren, one evil cat, one angel cat, and two ridiculous but sweet mutts. They are Giants baseball and Warriors basketball fans.
We are blessed to have Ms. Wise as part of GSLS.