Forrest Campbell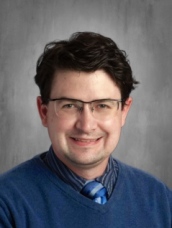 Forrest Campbell
Middle School Science Instructor
Phone: 415-897-8099
Employed Since: 8/20/2018
3 Years Experience At School
This will be Mr. Campbell's first year teaching at Good Shepherd Lutheran School. He has caravanned the world from California to China to Tennessee to Illinois and back. He received his B.S in Biology at Wheaton College and his Single Subject Science teaching credential from Sonoma State.
He has worked sequencing DNA at Euro-Fins Scientific Labs, made friends with porcupines and storks at Safari West, worked as a lifeguard at Westminster Woods Conference Center. He also served as Senior Personal Banker at Redwood Credit Union and most recently taught Genetics to incoming High School Freshman students at Sonoma State University.
He attributes his love of all things science, science fiction and mythology from watching science fiction theater and reading Percy Jackson books.
While not teaching, Mr. Campbell enjoys reading, listening to all kinds of music and spending time with friends and family playing board games.
We are blessed to have Forrest Campbell be part of GSLS.